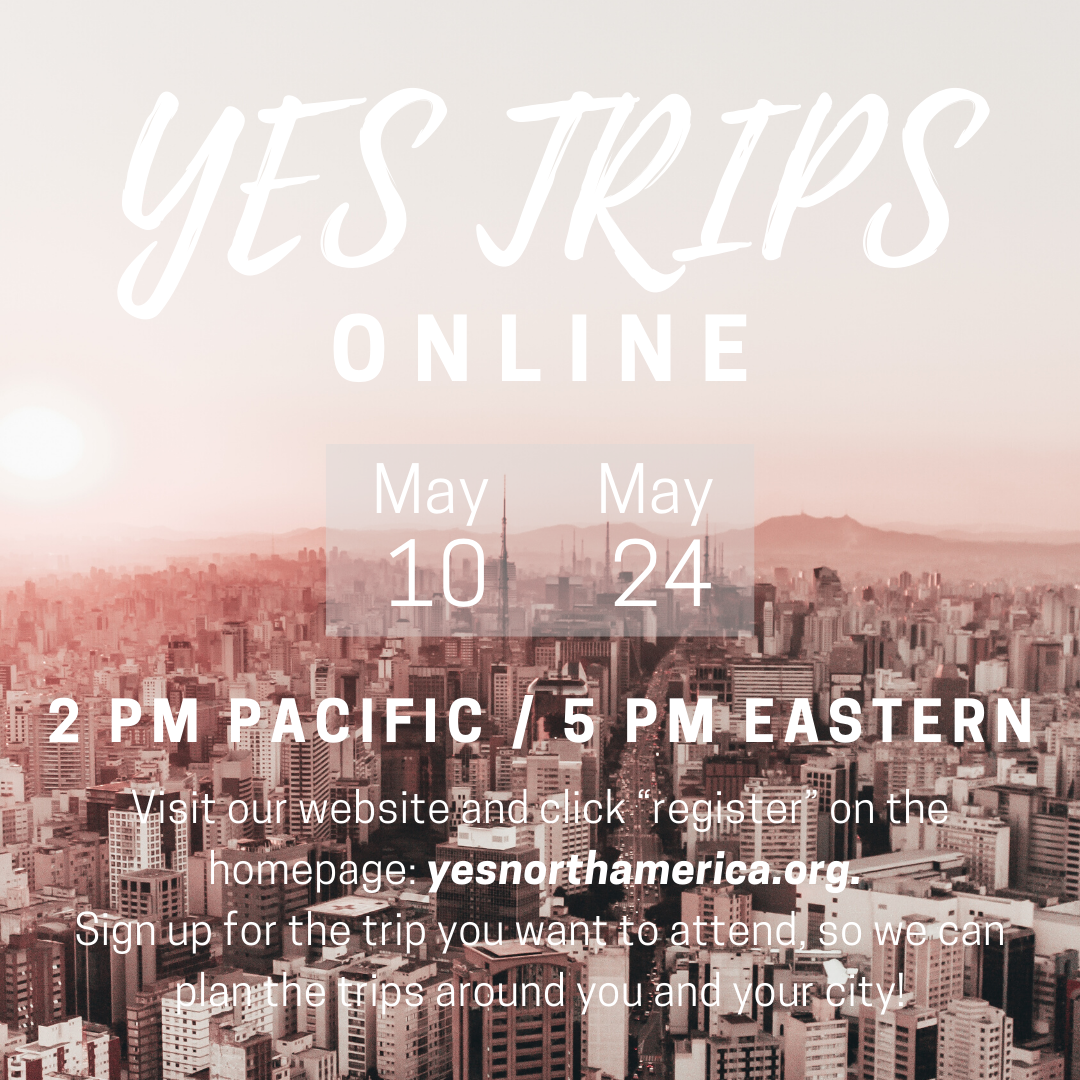 We are so excited to offer online YES experiences for you.
WHEN?:  May 10, and May 24 at 2pm PT, 5pm ET.  Trips will be about 2 hours.  
CLICK HERE TO REGISTER! We want to plan the trips around you and your city! Please register by the Thursday before the trip.  
Our wonderful YES leaders are looking forward to creating trips that guide our participants through all the elements of our service-learning method:
Expose: to the reality of the poverty in your city, the world, and our own lives through interactive curriculum.
Engage: in formative outreach opportunities while we're on the call! we will be joined by special guests from incredible ministries and organizations!
Equip: with a servant leadership approach and the tools to serve and love every person you encounter
Entrust: with continuing the mission of YES in your own communities, to inspire, lead, and educate others.
We will send an email to you with trip prep info and a "packing" list.  We look forward to creating Kingdom moments together.
Tuesday ZOOM calls!
We invite you to join us every Tuesday, 6pm PT/9pm ET, for a "Call to Action." Be with us as we seek to create an open space to discuss awareness and care for ourselves and others.  
EVERY CALL WILL OFFER SOME KEY ASPECTS OF THE YES EXPERIENCE.  PERSPECTIVE ON:
Becoming servant leaders

Exposure to the suffering in your city

Participating in God's healing work in your communities and the world
Be with us EVERY TUESDAY as we come together in the ways that we can.  CLICK HERE for the ZOOM link to join!
All are welcome.  Spread the word!  
WOULD YOU LIKE TO BRING YES TO YOUR CITY?  Please contact Katrina Bitar to set up a trip: kbitar@focusna.org.
Our mission is to create experiences that allow participants to engage with the poverty of their city, equipping them to become servant leaders in their own communities.  Local clergy and youth workers have invited YES to their community to give local youth this opportunity.
Traveling to a YES Trip outside your city is wonderful, but spots on trips are primarily for local students.
If you are from outside the city, you are welcome to join, as long as there are enough spots for local students.
Come and be equipped to serve — to make a difference here and now!
Be guided thru an educational and formational experience of your city, its people, and its needs
Learn how to approach people in need, and how to break down stereotypes
Connect with organizations doing great work in your city
Share fellowship and learning with other youth eager to serve
We come by invitation and set up trips by request, so we'd love to hear from you!