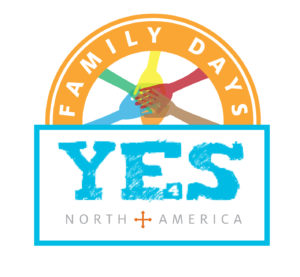 Hosting a YES Family Day is an exciting opportunity to bring your parish families together and expose them to the poverty that exists in their own community.
What is a YES Family Day?
Hosting a YES Family Day is an exciting opportunity to bring your parish families together and expose them to the poverty that exists in their own community. Through guiding and engaging them in active service, families learn why and how to approach the poor and serve their needs. Setting the heart of family life upon a strong foundation of service will allow for the Kingdom of God to be a reality in parish life and in daily family life.
YES Family Days can take one of two forms – the first is a two day one night format where church youth and their families arrive Friday evening at the church with their parents for orientation, and participate in ministry activities on Saturday. The second option is to host a single day, where families would arrive at church at Saturday morning for orientation and then go straight into ministry activities until the end of the afternoon.
YES Family Days are open to families with children 11 years old through high school age. Children who participate should be accompanied by a parent.
HOW TO HOST A YES FAMILY DAY
"The YES family day had significant impact on our parish in so many tangible ways. Serving shoulder to shoulder, parents and their children were guided through learning opportunities that changed not only how they related to each other, but also grew their understanding of the needs and realities of our brothers and sisters being served. Additionally, and perhaps most importantly, a relationship with local service providers was created that our parish has maintained. The Family Day ignited conversations and passion within our community and made us question how we, as a small church in California, can best respond to the call of the Gospel. That one day literally changed our missional DNA as a parish
about hosting a YES Family Day
Frequently Asked Questions
Most frequent questions and answers
What will my family be doing?
All YES events follow the "E4" service learning process: Expose, Engage, Equip, and Entrust. These four concepts infuse everything we will be doing during a YES family day. The day starts with orientation and guided discussion that exposes us to the reality of poverty, and our place in the solution. Engaging service projects make up the remainder of the day, where families have the opportunity to break through potentially uncomfortable situations. By the end of the day, families are more equipped to continue service, on their own, in day to day life.
As a parent, it's your right (and duty) to ensure that your children are not exposed to undue risk. That being said, the life-changing benefits of youth-ministry service experiences are without parallel. YES Leaders plan each aspect of a trip with safety and minimal risk as a top priority. It is natural for there to be tension and discomfort present during YES activities, but this tension does not mean that the group is unsafe. We have to meet the poor where they are, even if it is in what many would call "unsafe" parts of the city. Leaders visit all ministry sites prior to the trip, and if there seems to be a great chance of danger, alternate plans will be made.
Who will be leading the trip?
The YES Trip leaders are designated youth workers who are trained to lead YES trips.  They have gone through extensive youth ministry and trip leader training, and are equipped to attend to the needs of the students, guide them with love through the weekend, and to respond with care in any situation that may arise.  Leaders are generally young adults that are both from the host city and also interns or trained trip leaders from the YES Program.
What should my family wear?
Wear weather appropriate clothes that are comfortable and good for walking. Recommended dress is jeans, t-shirt, and tennis shoes.