By creating opportunities for youth to engage with the poverty of their city, YES is equipping young people to become servant leaders in their own communities.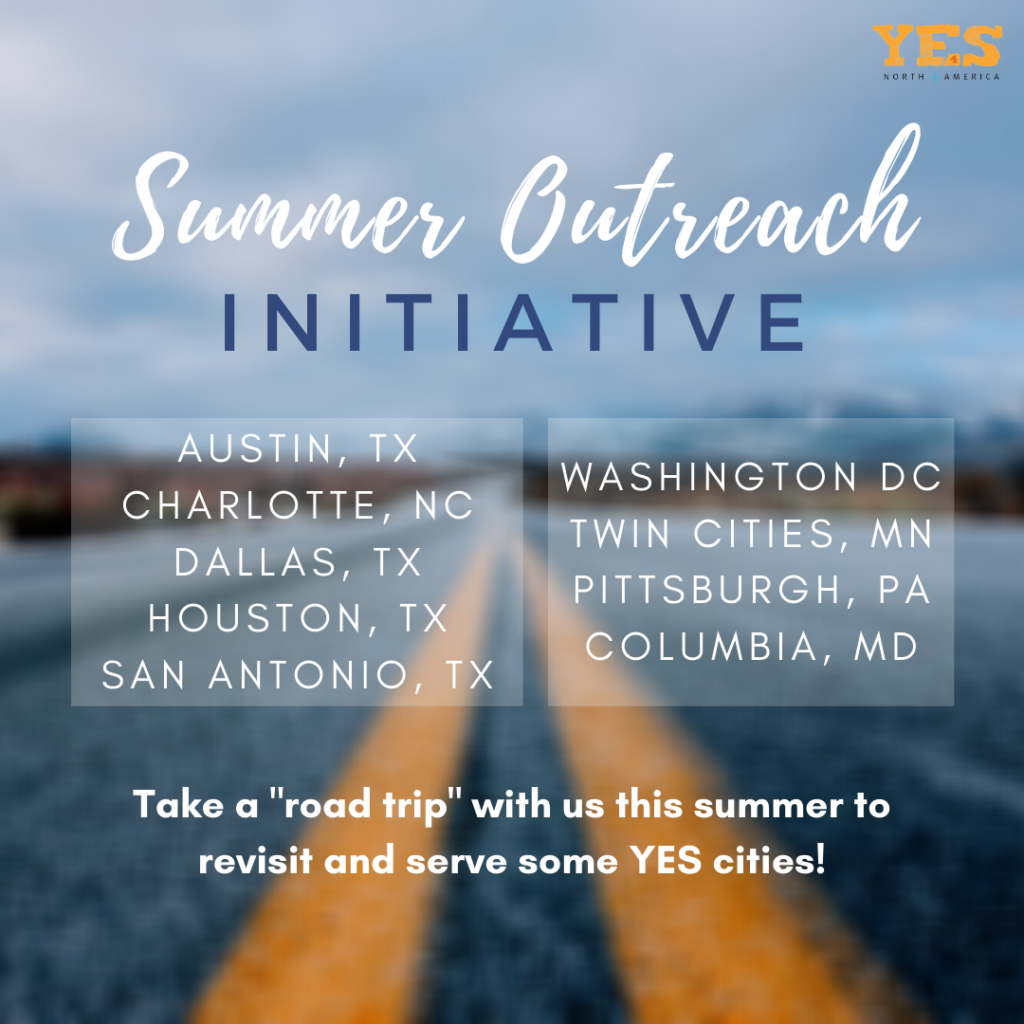 We are so excited to announce our Summer Outreach Initiative! In response to the beautiful people of our YES community who are seeking to find purpose and meet the needs of others who are struggling, we have decided to take a "road trip" and revisit some of our YES cities. 
We are coming to these cities, in spirit.
Beginning on Monday, July 6th, we will highlight a city every week, up until Labor Day. All are invited to serve these organizations that we served during YES trips. There will be multiple, safe, needful ways for people in the city to provide for the needs of the organization, and we will also offer ways to serve from anywhere!
We appreciate you sharing the information with your communities, so that everyone is able to serve in their own ways on their own time. There is no specific day, project, or timeline. Our hope is to bring awareness and exposure to these cities, so that people can engage with the current needs and the beautiful ministry that is happening there.
We look forward to continuing to serve with you!
"It is a really eye opening experience where I feel I was able to open my eyes to the problem of homelessness within the city that normally I don't typically see. It really sparked a drive to work on serving others no matter the context and trying to live a true, Christian life at all times."
"I love YES because it allows you to understand there are people in need wherever you are--whether it's some big, tourist-filled city, or a quiet town off the coast. People need community and love. YES gives us the opportunity and awareness to fulfill that need."
The YES College Day that I attended was not only an amazing way to connect with the greater Bloomington community, but it was also a new way to think about how we, as Orthodox Christians, are supposed to care for those around us, no matter where they come from.
"YES is a challenge. A challenge to look at the world with pure joy and curiosity. A place to get to know God, people you've never met, and people you thought you knew. One of the things I remember most was looking complete strangers in the face without second thoughts during, before, or after."
What I received from YES Leadership Training is something unexplainable: an inner confidence, a voice, a purpose, an ever more present yearning to do something MORE. I also received love, a deeper love than anything I've ever experienced from everyone that surrounded me.
"The YES College Day was an excellent experience because it looked at service through a different lens than the traditional service project day. Though coat drives, dinners, and other traditional activities are excellent ministries…YES focuses on interacting with the community in different ways."
"Christ calls us to love our neighbors. As a YES trip participant, those neighbors were most often the poor, the hungry, and the homeless. However, leadership training made me realize another critical component of YES: that we're all each other's neighbors."
"YES guides us with a compassionate outlook on life, teaches us to break down stereotypes, and most importantly to love all of our neighbors, despite whatever situation they may be in. The way that I see things and people...has been truly and forever changed."
"My experience with YES was amazing! I recommend this for everyone. It opened up a new view to see the world around me...We are blessed to have what we have. Ever since this experience, I have opened myself up to get to know the people in my community."
YES has worked to raise up over
You can get involved too!
Here's how.
A WORLD PARTY is a beautiful way to bring all the people of a community together for some fun. Host one in your town!
By giving monthly you can ensure that YES is fulfilling it's mission all year long. Join the YES Sowers monthly giving society.
We will send you a tote bag to fill with gifts for someone in need, to help you create your own personal service project!
Sign up for our newsletter to make sure you stay informed of opportunities to volunteer and give.
A gift of $25 will enable a group of students to share food and fellowship with someone in need.
You can bring YES to your community no matter where you are in North America.